The seminars can be held in german or english language afte rconsultation other languages with a translator is also possible. The seminars can take place at the customer's premises or at FRENCO.
Furthermore, FRENCO offers the seminars in cooperation with Technische Akademie Wuppertal (TAW) in Altdorf, Germany. For more information about TAW see here.
Our course instructor Mr. Norbert Weiss devises all courses in a very practise-orientated way which includes lectures with explanations, questions, discussions and practical examples. Descriptions of numerous practical experiences complement this normally uninspiring topic in a vivid and enjoyable way.
---
Literature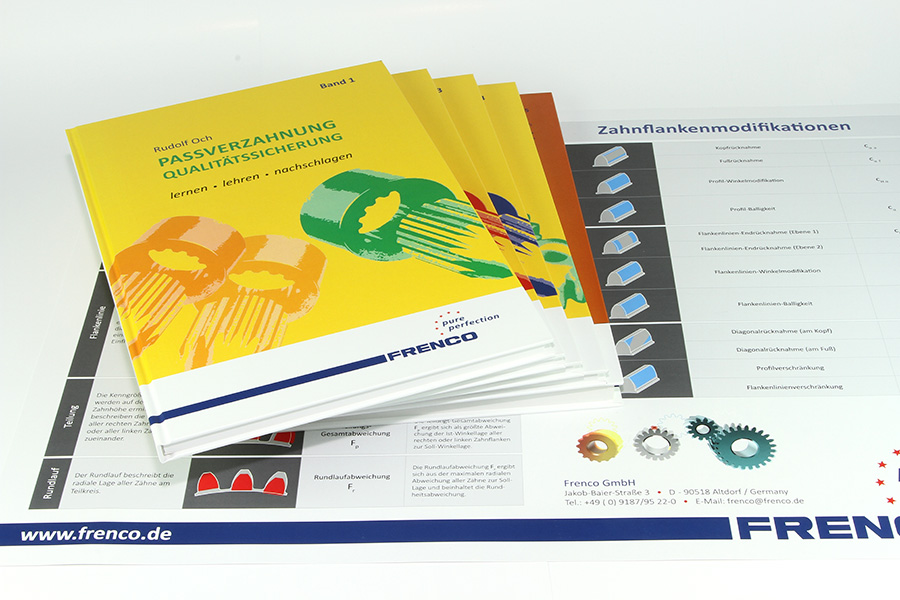 FRENCO offers literature on all aspects of gears and splines.
Special topics in a generally understandable form
Simple explanations and educational games
Individual documentations and books
Standards that are difficult or no more to obtain in other ways
FRENCO Books
Summary of expertise/7span>
Below you can find the table of contents and short excerpts of all volumes:
| Volume | Title | Contents |
| --- | --- | --- |
| 1 | Splines – Quality assurance | Volume 1 |
| 2 | Splines – The position of the spline axis | Volume 2 |
| 3 | Splines – Standards and calculation | Volume 3 |
| 4 | Gears – Quality assurance | Volume 4 |
| 5 | Gear metrology trough the ages | Volume 5 |